It's that time of the year again where we look at the top books I have read. Keep in mind that this is somewhat of a subjective list. But there are a lot of good books out there, and one of the advantages of the lockdowns I did manage to get through a few of them. Because of this, I have gone not for one but two books in some categories!
Book(s) of the Year
The Rise and Triumph of the Modern Self by Carl Trueman (2020)
This is an outstanding history, political and philosophical analysis on the rise of the modern constructed self. This is not an easy read and takes some perseverance to get through, but is worth it. Trueman focusses on the analysis, rather than the response, though there is a chapter at the end that does look at how evangelical Christians can respond and questions we should ask of ourselves. The good news is that there rumours of a more readable version coming out soon for teenagers who need to interact with the issues in this book.
Being the Bad Guys by Stephen McApline (2021)
If Trueman's book is an objective analysis of the changes in culture, then McApline is the Australian interaction with this. This book won 2021 Australia Christian Book of the Year. The sections on whether we are actually persecuted is important, but what I loved is that he looked at applications for both church and the workplace.
Preaching
Why Johnny Can't Preach by T. David Gordon (2009)
At the time that Gordon wrote the early manuscripts of the book he had Stage III cancer and a 25% chance of survival. This means he wrote what he thought without caring what people thought about it since he was expecting to be around for the publication. As preachers it is what we need to hear.
Daniel Pink Teaches Sales and Persuasion MasterClass.Com (2021)
I am subscriber to MasterClass.com Daniel Pink has a great course on persuasion. This is not what I expected from a New York salesman. It is not about the hard sell, but how to use data and questions to convince people of what you want to them to know. This was not Christian and not about preaching, but helpful and practical on persuasion.
Theology
On the Road with Saint Augustine by James K A Smith (2019)
This was not the book I expected, but made me appreciate Augustine so much more. (To the point I revisited Confessions). I think it is the kind of book you either love or hate, but I have reviewed it elsewhere.
Christ the Centre by Dietrich Bonhoeffer (1960)
This was a re-read and I think reading it again gave me a better appreciation of the book. Sadly, the book is incomplete and it would have been great to have the last section on the Eternal Christ.
Leadership
Small Church Essentials by Karl Vaters (2018)
Since most churches are not megachurches, this is an important contribution to practical church leadership. Vaters makes a distinction between small/ big church to that of good (healthy)/ bad church, the second distinction we tend to confuse with the first but this is a bad assumption. Vaters teaches how to make the most of being a small church in order to reach people.
Honourable Mentions
A couple of honourable mentions I should point out. Don't Let the Enemy have a Seat at the Table by Louie Giglio is not going to win any awards for literature or theology, but was one of those books I needed to read at the time. My family also got into it, which made it worthwhile in my book.
The Good Sporting Life was written by a friend of my, Stephen Liggins. It is well written, researched but what makes it a good book is that it covers a topic that many Christians assume there is no point thinking about.
None like Him by Jen Wilkin looks at the non communicable attributes of God, which is another way of saying what makes God, God. I have read books like this before, but this was easily the most accessible of them.
Podcasts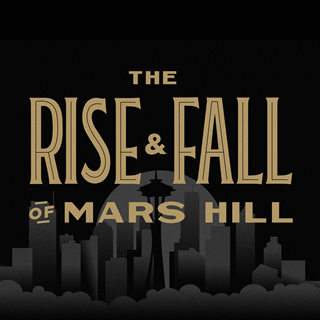 The Rise and Fall of Mars Hill hosted by Mike Cosper
This was the podcast I spent the most time listening to. Cosper analyses what happened to Mars Hill Ch. urch Seattle (1996-2014) especially its downfall. This was a period of life and culture that I lived through and if I didn't say that there were things about Mark Driscoll that I admired at the time I would be lying. I am a little hesitant in recommending this as my concern with this podcast is that it seems to be as controversial as the church and ministry they are analysing. The idea was to bring healing to people who have been effected by the ministry, but the last episode starts to show that doing this in a podcast format may not have been the best way to bring that healing.